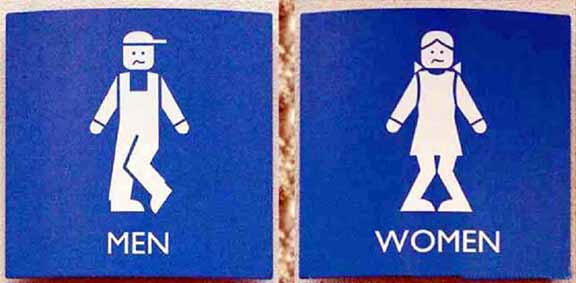 I was perusing my old blog entries and came across a few things that I had stated I would post about and never did... For instance, Top things to do in a Public Toilet, and 10 things Never to say on a first date. So after about 5 years now has passed since that forgotten text, I have re-Googled these items and have found some interesting things.
So today is all about public toilets. YAY! Your favorite.
There is an
EHow.com article worth reading about how to use a public restroom without having to touch the seat
. That's handy! And should you find you're in the forest, here's a
Wikihow.com article to help you out on that one.
Package made complete with squat techniques. Batteries not included.
There is
publictoilets.org
where it appears you can search for public bathrooms in 19 countries around the world. Another handy dandy.
Then I thought, let's have a larf.
Watch this
.
Or for further fun stuff, try a few of these favorites in your own local facilities:
1. Masquerade as a door-to-door salesman.
2. Start a sing-a-long.
3. Write 'nerdy' graffitti like "Please wash your hands. Thank you." or "Don't forget to wipe!"
4. Collect a door charge.
5. Impersonate Elvis
6. Write "Please use other end!" on the toilet paper.
7. Leave a ladle in the toilet bowl
8. Say "Ewww Gross! Who did THAT?!"
9. Rate people's splash noises
10. Ask "Is there a doctor in the house?